About
Thomas Lyte is a modern luxury English brand, specialising in bespoke gold and silverware, elite sporting trophies and exquisite leather accessories. With the finest designers and makers, we are proud Royal Warrant Holders as Goldsmiths and Silversmiths to Her Majesty the Queen. Founded in 2007, the brand seeks to emulate the English spirit, embracing a modern aesthetic in an effortlessly understated way, ensuring the highest quality and skill are embedded in every item. Our designers and Master Craftsmen ensure traditional techniques not only survive, but are reworked, creating exciting, elegant and inspiring products.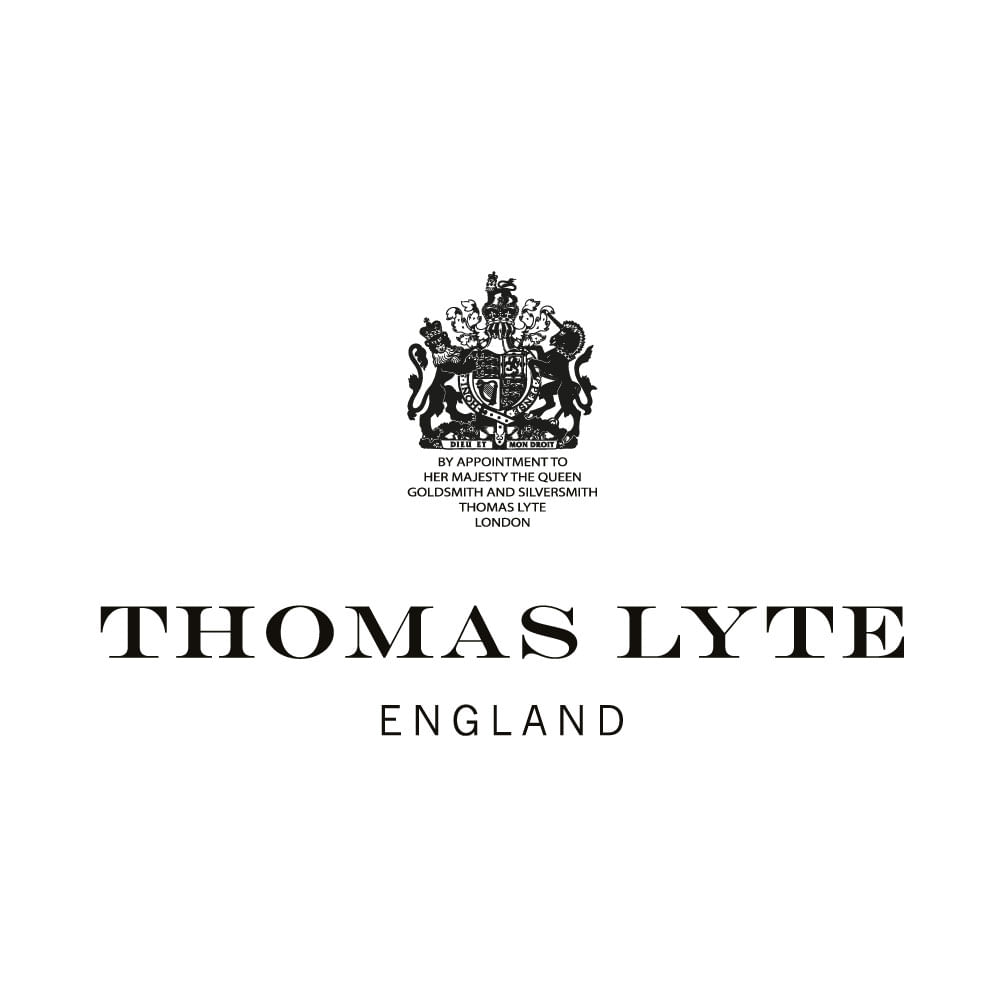 BY ROYAL APPOINTMENT: THOMAS LYTE GRANTED A ROYAL WARRANT AS GOLDSMITHS AND SILVERSMITHS TO HER MAJESTY THE QUEEN
On the 1st January 2015; London, England, Her Majesty the Queen has granted a Royal Warrant to Thomas Lyte as Goldsmiths and Silversmiths.
Granted for a five year period to the firm and founder Kevin Baker Esquire as a grantee, the appointment recognises that Thomas Lyte has been a direct supplier and restorer of silverware to the Royal Household since 2010.
Thomas Lyte are world renowned Goldsmiths and Silversmiths with recognition for designing, making and restoring silver and gold decor for Royal Households, Military and Private residences.
Kevin Baker, CEO and Founder, Thomas Lyte, said "It is with great honour that we accept this Royal Warrant. It is an exceptionally prestigious stamp of quality and recognition for our London based Goldsmiths and Silversmiths."
Bespoke
Thomas Lyte hold years of experience in crafting the finest bespoke silverware. Our silversmiths use traditional skills to create stunning bespoke silver and gold objet and home-wares. We pride ourselves on our ability to turn your designs into reality, allowing you to work closely with our designers, whether they be small table top ornaments or large scale centrepieces.
Our manufacturing capabilities are extensive, and being proud Royal Warrant Holders, our extremely talented in house designers can also create the finest bespoke trophies and medals for the most supreme events and occasions.
Trophies and Awards
Using traditional silversmith skills in our workshops, Thomas Lyte are expert trophy manufacturers. Renowned as one of the world's best trophy makers, we specialise in bespoke elite trophies, awards, medals and bespoke silverware. We are responsible for some of the world's greatest silver and gold trophies, famous sports trophies and celebrated awards; including the FA Cup, The Webb Ellis Rugby World Cup and The Ryder Cup.
We also have an internal team of specialist Trophy & Silverware Designers who can create a range of custom designs and artworks to any brief, making Thomas Lyte the only Silversmith to come to for your Bespoke Silverware.
Corporate Gifting
Thomas Lyte's Corporate & Bespoke Luxury Gift service is built on years of experience and expertise. From travel and office accessories to Cufflinks and barware, we offer a range of premium corporate gifts, across both men's and women's products, to suit any budget.
Our business collection is unmatched in its craftsmanship and quality, crafted from the highest quality materials with exquisite attention to detail. Thomas Lyte's bespoke service allows you to design the perfect gift, tailored to your brand and corporate livery, in which most silver items can be engraved with your logo and leather products can be silver and gold foil or blind embossed.
With a long list of distinguished clients such as BP, Team GB, The FA and 10 Downing Street, we pride ourselves on our ability to turn your aspiration into a beautiful business gift to delight your clients or show appreciation to your colleagues. We offer a wide range and hold stock of most items in the UK, which ensures a faster turnaround time.
Homewares and Gifts
Our incredible selection of Homeware and Gifts cater for all occasions, including anniversary, wedding, Christmas and christening's. Furthermore so, we have a range of homeware, barware and office and business accessories. Hand made using the finest leather and silver, you can rely on Thomas Lyte for high quality gifts that the recipient is bound to love!
Men's and Women's
The Thomas Lyte Men's collection boasts an extensive choice of luxury leather bags, wallets and accessories, as well as an exclusive collection of hand crafted silver cufflinks. Designed with the style-savvy modern man in mind, the collection features the widest spectrum of designs; from the luxury leather weekend bag and leather wash bag, to the leather briefcase, leather laptop bag and leather messenger bag. Completing the collection are the small leather goods including luxury leather wallets, leather watch rolls and leather credit card wallets. As always, functionality and style are at the heart of our designs, made specifically for the style conscious gent on the go.
The Thomas Lyte Women's collection boasts an extensive choice of luxury leather hand bags, totes, clutches, purses, make up bags and accessories including jewellery boxes and silver keyrings. Our luxury women's hand bags are created by our dedicated design team and hand crafted from the finest calf leather. We also have a range of leather totes, leather shoulder bags, leather clutches and large leather bags which double up as weekend bags. Luxury also extends through to our leather accessory collection, with a great range of purses including travel wallets and coin cases, leather jewellery boxes and document folios.
The Thomas Lyte Foundation
Founded on ethical principles, Thomas Lyte donates a percentage of its profits to The Thomas Lyte Foundation, a registered charity.
Keeping the art of craftsmanship alive is a central part of the company's philosophy.
"It's not about the desire to build the largest company as fast as possible, but we really live by our values. It's about ensuring that the great things about luxury are there for tomorrow…It's values first," said Mr Baker.
The Thomas Lyte Foundation's aim is to provide support for emerging English artists, designers and craftspeople, to ensure the survival of endangered skills that are essential to the English luxury industry.
Award Winning Company
Thomas Lyte was shortlisted for the Made in Britain award at the Growing Business Awards 2011.
Thomas Lyte was the winner of the 2014 Luxury Lifestyle Awards.
As part of the company's support for great craftswork, Thomas Lyte created The Thomas Lyte Modern Heritage Award in conjunction with the British Craft Council. The Award ran in 2008/2009 and was to recognise graduates and newly qualified graduates with both a bursary and support to commercialise their winning designs.Nine winners were shortlisted and three winners were announced by Kevin Baker, chief executive, Thomas Lyte, at Origin: The London Craft Fair at Somerset House on the 6 October 2008.